Are you looking for top fun crochet patterns to make fun toys for your children? Check out the top 5 animals doing yoga patterns by me, Lennutas, these designs are so unique and be one of the funniest things you have ever seen.
I created up to 8 patterns in these animals doing yoga collection, people love them so much and buy a lot. A few months after the launch, I found these animals are one of the top 5 patterns that people buy the most, let's check out the top 5 fun crochet patterns below:
You might wonder which brand of yarn did I use to make all the yoga toys? Yes, I'm using this 4-ply yarn, it's a kind of semi-cotton and acrylic yarn, this yarn has a lot of sweet colors for you to choose from. More important, you can easily buy this yarn online on ETSY, it's available to ship from Canada (or from China)
Crochet hook? I'm using this Hamanaka hook 2.3 mm size, you can buy it here or buy a set of hooks to save more money.
Besides, you can use Yarnart Jeans as an alternative, it's quite similar to the yarn I'm using, and it's also one of the famous yarns among brand yarns for making amigurumi toys over the internet. Read this post to discover more yarns for amigurumi projects.
Piggy
This piggy is the only design that has an outfit (t-shirt), but it will not be more difficult to make with my pattern. A well-written pattern with a lot of photo tutorials, plush more my available video tutorials will help you easily make a finished piggy that exacts like me.
Crochet amigurumi stitches that I use in this pattern: Single crochet stitch, Single crochet increase stitch, Single crochet decrease stitch, Double crochet stitch, Half double crochet stitch, Inc(hdc): Half double crochet increase stitch, Back loop only, Front loop only, Slip stitch, Skip stitch.
You might want to check out my post about best crochet amigurumi stitches for beginners. Click here to view.
Dinosaur
Not many requested but this design, dinosaur doing yoga pattern, one of the fun crochet patterns, getting the most sale, and be the best seller in this animal doing yoga collection. So I will not be so surprised if you choose to buy this cute pattern too.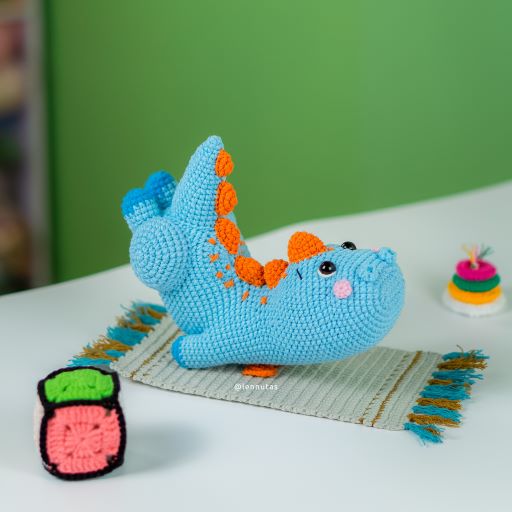 Cow
You might be attracted to the bell on the ear of the cow? I created this design because I got a lot of requests to make. Most people, especially children, love the cow. Mrs. Moo Moo is the name that I felt impressed with when hearing from one of the people that requested it.
Elephant
Yoga elephant with a ball on the back, is the cutest pattern in this collection and is the one that is requested mostly in the poll that I launched in my Instagram stories.
You will also get the ball pattern along with this cutie elephant in one PDF file. Click the following button to find out more.
Dog
Yoga dog, the simplest pattern in this collection, is one of the fun crochet patterns that are suitable for you especially if you are a beginner.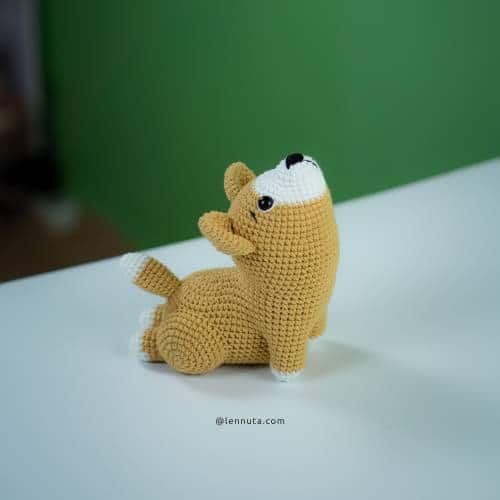 Bonus free patterns: yoga accessories
Double your fun by crocheting more yoga accessories along with your favorite animal. I have shared many free patterns of yoga accessories in this post, they include a yoga mat, a ball, dumbbells, a pyramid, and a cubic.
Click here to view yoga accessories patterns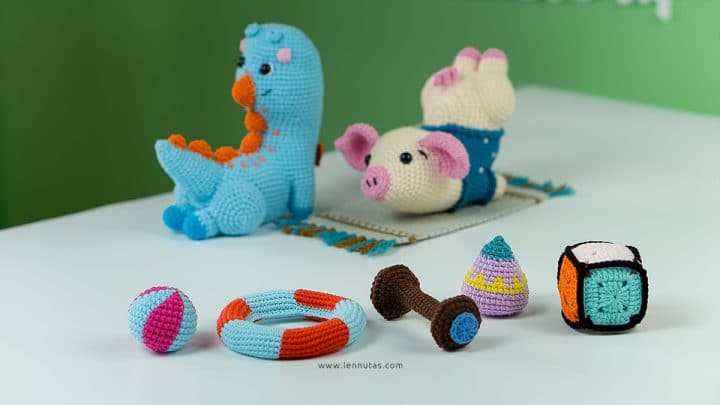 Love these fun crochet patterns? I hope you love these ideas and enjoy my crochet ideas in this post. I will continue to share more crochet ideas in my blog, so keep following, and don't forget to subscribe to my list by filling out the form below this post. You will get notified once a new post is published.
Check out more free amigurumi patterns on my blog or search by using the following form:
Weekly Newsletter
Join to receive a first gift?
Join my list to receive the first free pattern and get notified once I publish a new free pattern.