From chubby cats to mischievous rabbits, haunting pandas to mystical cyclops, I've got a brand new collection of Halloween crochet patterns to share with you!
Are you ready to bring some spooktacular charm to your crochet projects? Halloween is just around the corner, and what better way to celebrate than by creating adorable and eerie crochet amigurumi toys?
Halloween crochet has become a popular trend among crafters, and it's easy to see why. The combination of cute and creepy elements adds a unique twist to your handmade creations, making them perfect for festive decorations, gifts, or even a bit of playful fright. Whether you're a beginner or an advanced crocheter, these patterns cater to all skill levels, ensuring that everyone can join in on the Halloween fun.
My new collection features four captivating patterns: the Chubby Cat, the Rabbit, the Panda, and the Cyclops. Each pattern comes with detailed instructions and accompanying images, guiding you through every step of the process. You'll learn new stitches, techniques, and tricks to bring these Halloween-themed characters to life. So, no matter if you're just starting your crochet journey or looking for a challenge, these patterns have got you covered.
So, get your crochet hooks ready and prepare to be bewitched by the magic of Halloween crochet. Let's crochet our way into the Halloween spirit!
Or you can bookmark this page by pressing Ctrl+D (Windows) or Cmd+D (Mac)
Halloween Crochet Amigurumi Ideas 2023
Chubby Cat
If you're looking to add a touch of Halloween crochet charm to your collection, our Chubby Cat pattern is a purr-fect choice! This intermediate-level pattern features a delightfully chubby cat body with a single large eye, beautifully adorned with black and blue colors against a vibrant orange backdrop.
To make it easy for you to bring this adorable feline to life, the pattern includes a wealth of resources. We've created detailed step-by-step instructions accompanied by an abundance of photos and video tutorials. Whether you prefer written guidance or visual demonstrations, we've got you covered.
To get your hands on the Chubby Cat pattern, you can find the convenient PDF file available on both ETSY and our website shop.lennutas.com. With just a few clicks, you'll have instant access to all the information you need to create your own Halloween crochet masterpiece.
But don't stop there! If you're new to crochet or want to brush up on your skills, head over to our blog lennutas.com for some fantastic resources. Check out our posts on basic crochet stitches, where you'll find comprehensive guides and tutorials to help you master the essentials. We'll walk you through each stitch, ensuring you have a solid foundation for your crochet adventures.
Chubby Rabbit
For those interested in selecting the best yarns for amigurumi, we've got you covered as well. Our blog post provides valuable insights and recommendations on yarn types, textures, and colors that work wonderfully for amigurumi projects. Elevate your creations by choosing the perfect yarn that adds character and charm to your Chubby Rabbit and other Halloween crochet endeavors.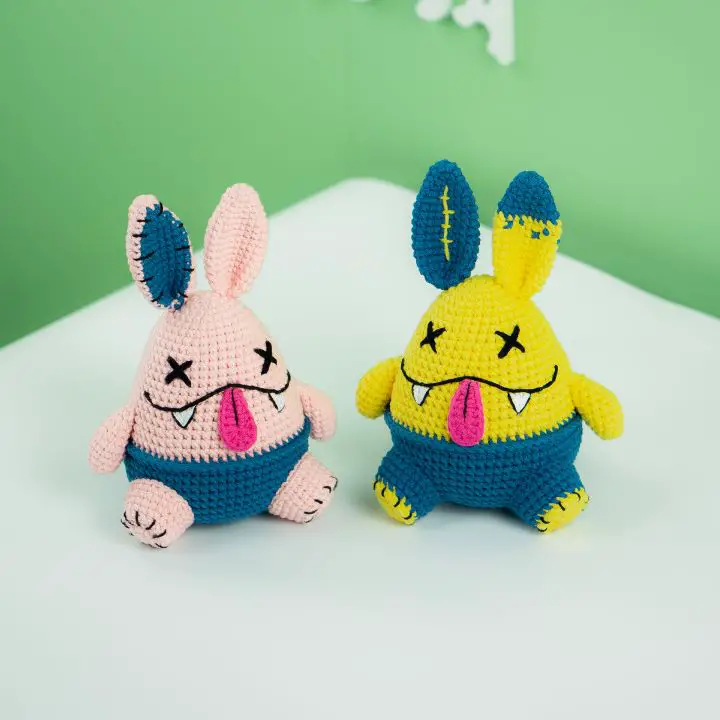 Panda
And let's not forget about our free amigurumi patterns for beginners! We believe that everyone should have the opportunity to explore the world of crochet, regardless of skill level. On our blog, you'll find a collection of beginner-friendly patterns that will help you build confidence and create adorable amigurumi toys. Take advantage of these free resources and unleash your creativity.
So, what are you waiting for? Visit my ETSY shop today to grab your Halloween crochet patterns and dive into the captivating realm of Halloween crochet. Don't forget to explore our blog posts on basic crochet stitches, best yarns for amigurumi, and free amigurumi patterns for beginners. Let's bring your crochet skills to new heights and create something extraordinary together!
Cyclops
Prepare to be captivated by the adorable yet creepy charm of my Cyclops pattern, specially designed for Halloween crochet enthusiasts like you. Inspired by the one-eyed giants of Greek legend and literature, I've transformed the Cyclops into a cute and chubby form that is both endearing and haunting. With its unique features, including four big teeth and red eye veins accentuating its single large eye, this Cyclops is guaranteed to add a touch of macabre allure to your Halloween creations.
I'm thrilled to share that this Cyclops pattern is part of the Festival Amigurumi 3 collection, a yearly event where 30 talented designers have come together to contribute their unique patterns. This collection offers an incredible opportunity for crochet enthusiasts to access a treasure trove of creativity and inspiration. And here's the exciting part: you can get all 30 patterns in one convenient PDF bundle at an astounding 90% discount for a limited time. It's an offer you won't want to miss!
The Festival Amigurumi 3 collection features patterns suitable for crafters of all skill levels, from beginners to advanced. Each pattern is available in both English and Spanish, ensuring accessibility for a wide range of crochet enthusiasts. By clicking the link provided, you can explore all the patterns in this remarkable collection and discover a world of endless crochet possibilities.
So, don't hesitate to embark on this incredible journey through the Festival Amigurumi 3 collection. Grab the Cyclops pattern and dive into the captivating realm of Halloween crochet. Unleash your creativity and bring this charmingly creepy creature to life. With the bundled offer of all 30 patterns at a significant discount, you'll have an abundance of inspiration to fuel your crochet adventures throughout the Halloween season and beyond.
Other Creepy Collections
Creepy 1
Welcome to the eerie and enchanting world of my "Creepy 1" collection, where Halloween crochet takes on a delightfully chilling twist. This collection features three captivating patterns: the Rabbit, the Cat, and the Bear. Each of these hauntingly adorable animals comes with a unique feature—their heads can rotate, adding an extra element of fascination to your crochet creations.
Recommended patterns for Halloween: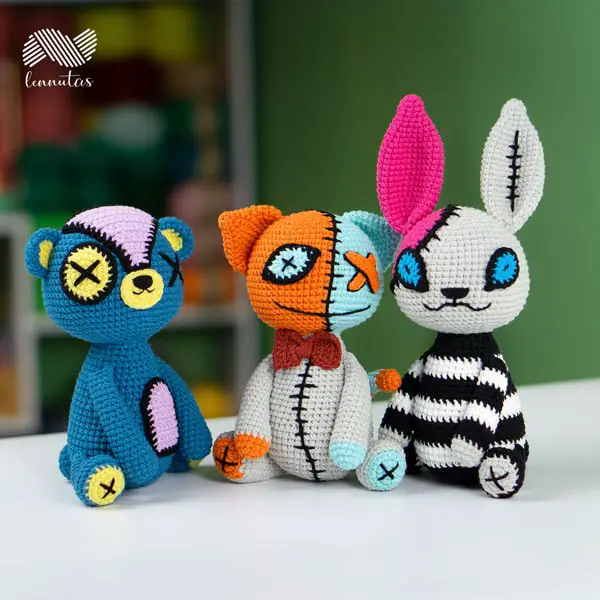 Creepy 1
A beautiful PDF printable file (no ads) includes 3 patterns: bear, cat, and rabbit. Available in English. Instant download after payment.
Designed with a creepy style in mind, the "Creepy 1" patterns are perfect for those who seek to embrace the darker side of Halloween crochet. These patterns allow you to bring to life a captivating array of creatures that are sure to send shivers down the spines of those who encounter them.
Creepy 2
Get ready to embrace the spine-chilling allure of Halloween crochet with my "Creepy 2" collection. This hauntingly captivating collection features a diverse range of patterns, each designed to send shivers down your spine. With patterns including a rabbit and cat with long legs and arms, a devil, Frankenstein, three ghosts in three different styles (witch, Jack Skellington, devil), and a bunny head, there's no shortage of creepy creatures to bring to life through crochet.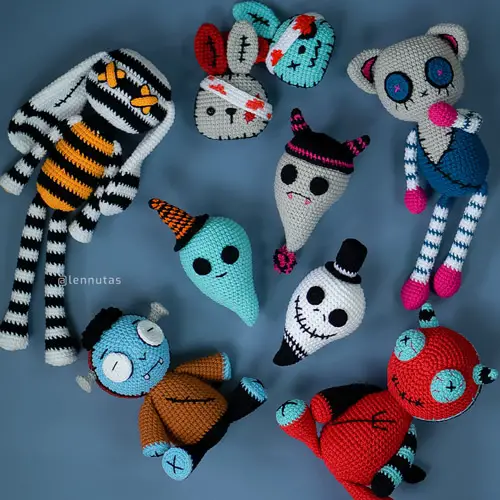 Creepy 2 Collection
These are my latest creepy patterns made exclusively for Halloween 2022. The patterns are well written and easy to follow, with many photo and video tutorials for beginners. Available in English. Instant download after payment.
With the "Creepy 2" collection, you have the opportunity to explore the darker side of Halloween crochet and create pieces that truly stand out. Let your imagination run wild as you crochet these captivatingly creepy creatures, all designed to embody the spirit of Halloween.
Conclusion
As we come to the end of this exciting journey through the world of Halloween crochet, I hope you're feeling inspired and eager to embark on your own spooky creations. Halloween crochet provides a unique opportunity to infuse charm and whimsy into your handmade projects, allowing you to celebrate the season in a truly special way.
Remember, the patterns we've explored, such as the Chubby Cat, Rabbit, Panda, and Cyclops, are just the beginning. With the right tools and a touch of creativity, the possibilities for Halloween crochet are endless. Whether you're a beginner or an advanced crocheter, there's always something new to learn and explore in this captivating craft.
The magic of Halloween crochet lies not only in the final product but also in the joy and satisfaction you'll experience along the way. There's something truly special about transforming a ball of yarn into a delightful, festive creature. So, gather your materials, follow the patterns, and let your creativity soar.
Thank you for joining me on this adventure into the realm of Halloween crochet. I hope you've discovered new techniques, gained inspiration, and found the joy that comes with bringing your imagination to life through crochet. Remember to share your creations, connect with fellow crafters, and spread the Halloween crochet spirit far and wide.
Wishing you a Halloween filled with enchantment, creativity, and endless crochet possibilities. Happy crocheting!
Weekly Newsletter
Join to receive a first gift?
Join my list to receive the first free pattern and get notified once I publish a new free pattern.