I'm excited to take it a step further by introducing a free crochet snail pattern that can be combined with these various shell styles to create your very own customized snail amigurumi.
Welcome to my blog, where we're all about creating adorable crochet snails! In my previous blog post, I shared ideas for making unique shell styles inspired by different characters, animals, fruits, and objects.
In my previous blog post, we discussed different shell styles that you can use in combination with the snail body pattern. These shell styles can add character, uniqueness, and charm to your crochet snail, making it a delightful handmade creation that stands out from the crowd. Now, with the free crochet snail pattern that I'll be sharing in this post, you'll have the perfect base to attach any of these shells and create your own snail masterpiece.
Introduction
So, get your crochet hooks ready, because I'm about to share a free crochet snail pattern that will be the foundation of your customized snail amigurumi. Let your creativity soar as you mix and match with different shell styles to create snails that are as unique as you are. Let's dive into the pattern and start crafting your very own crochet snail!
Sport weight yarn with any colors you like to make. Recommended yarns with up to 89 various colors.
Hook: Size 2.3 mm.
Scissors, pins, needles, stuffings.
Pair of safety eyes: Size 8mm.
If you're interested in learning more about crochet and amigurumi, check out my post about basic stitches for beginners. This post provides a step-by-step guide to the most common crochet stitches for making amigurumi toys.
If you're looking for more in-depth instruction, consider signing up for one of my amigurumi courses for beginners. These courses cover all the basics of amigurumi, from choosing the right yarn and hook to creating complex designs. With these courses, you'll be able to take your amigurumi skills to the next level and create even more adorable designs!
MR: Magic ring/ Magic circle
Ch: Chain stitch
Sc: Single crochet stitch
Inc: Single crochet increase stitch
Dec: Single crochet decrease stitch
Hdc: Half double crochet stitch
dec(hdc): Half double crochet decrease stitch
Ss: Slip stitch
[…]*x: Repeat instructions x times
(…): Number of stitches of each round
Recommended easy pattern to crochet for beginners. You might need to check out my basic crochet stitches tutorial.
For a better result, use single crochet cross stitch (yarn under) and invisible single crochet decrease stitch unless otherwise specified.
Work in a continuous spiral unless otherwise specified.
Or you can bookmark this page by pressing Ctrl+D (Windows) or Cmd+D (Mac)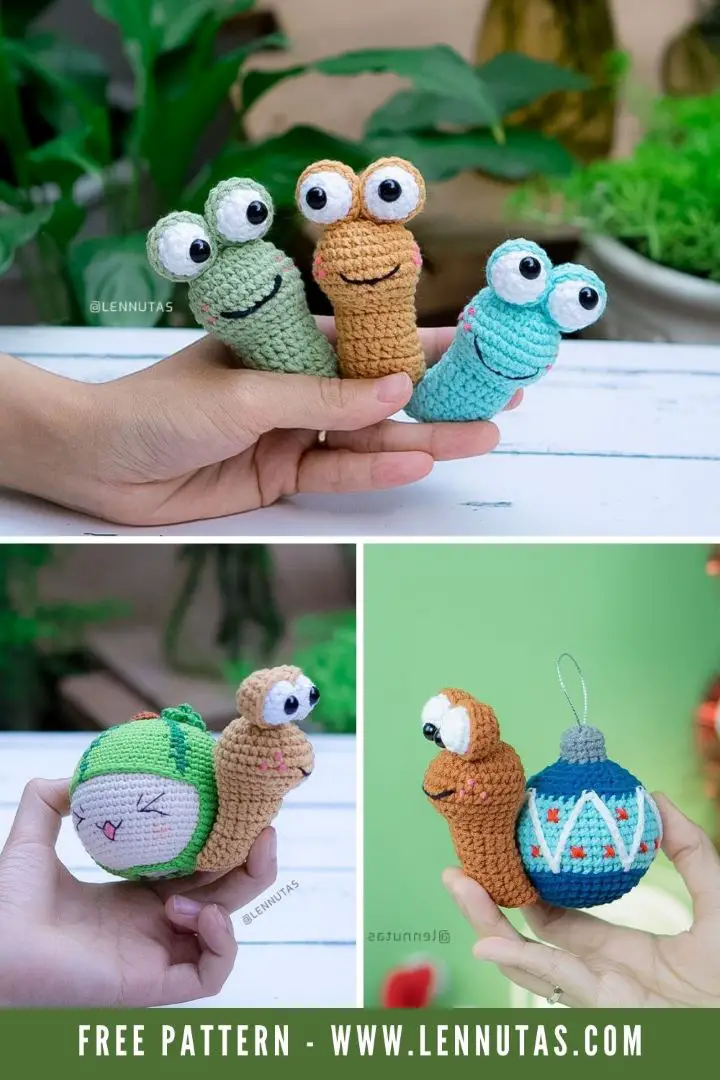 [Copyright Notice] This pattern was written, designed, and copyright held by, Lennutas. You are not permitted to copy, share, edit, upload or redistribute this pattern in any way, this includes making video tutorials or translating into other languages. Personal use only.
Crochet Snail Body Pattern
Head & body
Use cream yarn
1: 6sc into MR (6)
2: 6inc (12)
3: [inc, sc]*6 (18)
4: [inc, 2sc]*6 (24)
5: 9sc, [inc, sc]*3, 9sc (27)
6: 10sc, [inc, 2sc]*3, 8sc (30)
7-8 (2 rounds): 30sc (30)
9: 10sc, [dec, 2sc]*4, 4sc (26)
10: 10sc, [dec, sc]*4, 4sc (22)
11: 10sc, 4dec, 4sc (18)
12: 18sc (18)
13: 6sc, 10hdc, 2sc (18)
14: 18sc (18)
15: [inc, sc]*3, 2hdc, [dec(hdc), hdc]*3, sc (18)
16: 18sc (18)
17: 10sc, 8hdc (18)
18: 11sc, 6hdc, sc (18)
19: 2sc, [inc, sc]*3, 3sc, 3dec(hdc), sc (18)
20: 18sc (18)
Fasten off, and leave a long tail for sewing.
Eyes (x2)
Part 1
Use white yarn
1: 6sc into MR (6)
2: 6inc (12)
3-5 (3 rounds): 12sc (12)
** Put the safety eyes between round 2 and round 3.
Fasten off, and weave in ends.
Part 2
Use cream yarn
1: 6sc into MR (6)
2: 6inc (12)
3: [inc, 3sc]*3 (15)
4-5 ( 2 rounds): 15sc (15)
Fasten off, and leave a long tail for sewing.
Love the above ornament ball? Free patterns to make it with others here.
Assembly
Sew the eyes to the head from round 3 to round 4.
Use black yarn to embroider the mouth between round 7 and round 8 of the head.
Use pink yarn to embroider some dots to make the cheek from round 6 to round 7.
Get Creative with Crochet Snail Patterns and Customization
In conclusion, this free crochet snail pattern provides endless possibilities for customization when combined with different shell styles, the options are only limited by your imagination.
I encourage you to give it a try and experiment with your own variations using my free crochet snail pattern. Don't be afraid to mix and match different yarn colors, hook sizes, and modifications to create your own unique snail looks. The beauty of crochet is the ability to customize and personalize your creations to reflect your own style and creativity.
I would like to thank you for visiting our blog and hope that you have found inspiration and ideas for your next crochet project. I would love to see your creations! Feel free to share your customized snails and tag me on social media using the hashtag #lennutas. I can't wait to see what you come up with!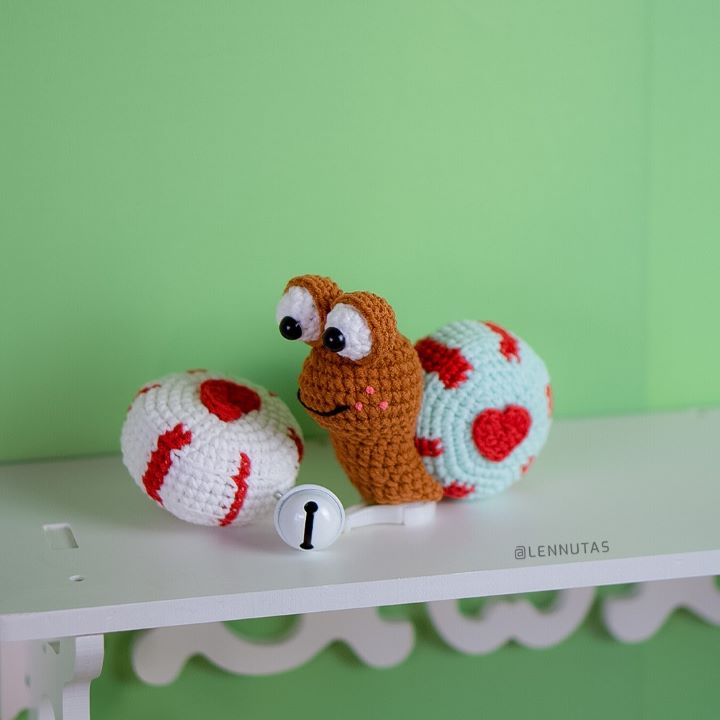 Check out another free pattern to make a sweetheart candy on my blog.
Happy crocheting and have fun experimenting with your own custom crochet snail patterns!
More free patterns
My latest free amigurumi patterns you might be interested in:
Click here to view all free amigurumi patterns
Weekly Newsletter
Join to receive a first gift?
Join my list to receive the first free pattern and get notified once I publish a new free pattern.