Check out my collection of unique and easy-to-follow free amigurumi patterns PDF patterns for amigurumi, perfect for all levels of crocheters. These patterns are available on my blog which is listed below in a timeline base and you can view them freely anywhere.
Hey there little friends! Have you ever heard of amigurumi? It's a special craft from Japan where you can make the most adorable stuffed toys using crochet or knitting techniques. I just love making these cute and cuddly creatures, and I want to help you make them too! That's why I have a blog where I share free amigurumi patterns, which means you can create your own special toys without spending any money on patterns.
In this post, I'll be putting all of my free amigurumi patterns together in one place, so you can easily find and use them. You can even download a special PDF file for each pattern to make it easier to follow. Let's get started and make some amazing amigurumi toys together!
Why choose pattern PDF files?
My free amigurumi patterns PDF are unique, easy to follow and designed with careful attention to detail. They come in digital format, which means you can access them on any device, and I'm currently offering a special promotion for new customers. Don't just take my word for it – my patterns have received rave reviews from other satisfied customers, so why not give them a try and see how easy and fun it can be to create your own adorable amigurumi?
Get exclusive, lifetime access to my extensive collection of PDF patterns and download as many as you want for the unbeatable price of only $5. With new patterns added regularly, you can keep your crochet projects fresh and exciting while exploring a variety of designs and styles. Plus, with the convenience of having your patterns stored digitally, you can enjoy unlimited access to your favorites anytime, anywhere, for as long as you like.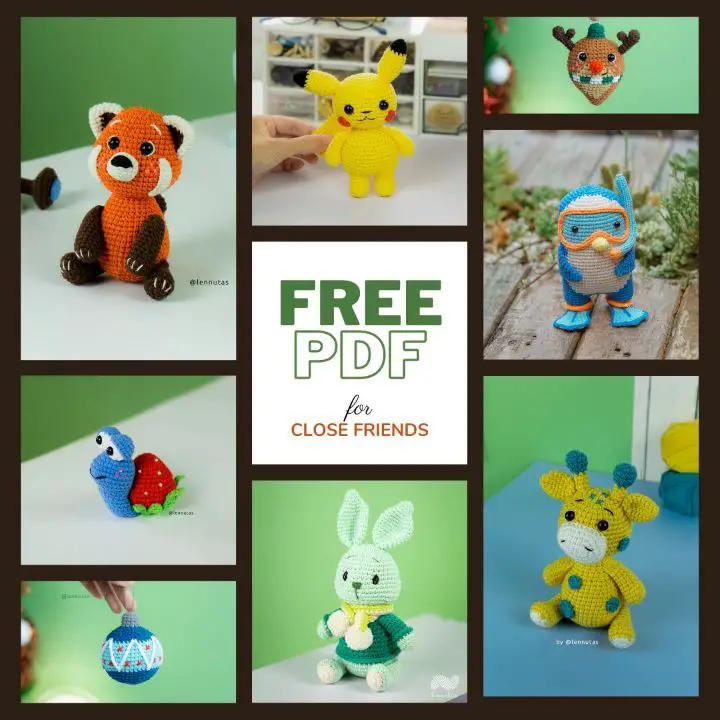 Close Friends Membership
New PDF patterns are updated regularly
Lifetime access and unlimited patterns
Available in English. Instant download.
Tips for Beginners
Sure, here are some tips for beginners before starting to crochet:
Choose the right materials
Make sure you have the right hook, yarn, and other tools you need to get started.
This yarn is my favorite yarn for making most of my amigurumi toys. And this time is not an exception, I use this 4-ply yarn and buy it online easily on ETSY in this Canada-based shop, or this shop. I'm also using hook size 2.3 mm and Hamanaka is one of my favorite brands, find and buy Hamanaka hook on ETSY.
Try with other sport weight yarns that you have been familiar with. I recommend using Yarnart Jeans as an alternative, buy online at the cheapest price here. Besides, you will need some extra kinds of stuff as follows:
Scissors, pins, needles, stuffings.
Pair of safety eyes: size 10 mm.
If you are looking for the best yarn for amigurumi projects? Read the post about my best yarn for amigurumi to find out more.
Start with easy patterns
Choose simple patterns to start with so you can get the hang of the basics before moving on to more complex designs.
Recommended easy pattern to crochet for beginners. You might need to check out my basic crochet stitches tutorial.
Taking a crochet amigurumi course is an excellent way to learn a new skill, improve your crochet techniques, and create something unique and adorable. Don't miss the chance to take a crochet amigurumi course! With expert guidance and hands-on practice, you'll gain the skills and confidence to create your own adorable designs. Join now and let's unleash your creativity together!
Take breaks
Crocheting can be a relaxing hobby, but it's important to take breaks to avoid eye strain, hand fatigue, and other physical symptoms that can result from repetitive motion.
You might need to play this video while crocheting, I recorded it on a rainy day at a coffee shop, was crocheting amigurumi toys. Let's play it and crochet with me in calm piano and relaxing music.
Have fun!
Remember that crocheting is a creative outlet and a fun way to express yourself. Don't be too hard on yourself if things don't turn out perfectly at first, and enjoy the process of learning and experimenting with different patterns and techniques.
Don't forget to share your finished amigurumi toys with me on Instagram or Facebook. I would love to see them.
All Free Amigurumi Patterns PDF
The following free amigurumi patterns PDF are sorted in a timeline base, you can scroll down to find and view your favorite pattern.
Tips for Making Amigurumi
Making amigurumi toys is super fun, but it can be tricky too, especially if you're just starting out. Here are some tips that will help you make your amigurumi creations turn out great!
Choose the right yarn and hook size for your pattern, so your toy comes out the right size and shape.
Read the pattern carefully before you start. If you don't understand something, don't be afraid to ask for help.
Stuff your toy properly, so it's firm but not lumpy.
Be patient and take your time. Amigurumi is a slow process, but it's totally worth it when you see your finished creation!
Remember, practice makes perfect! Keep working on your amigurumi skills, and you'll be a pro in no time.
Find this pattern helpful? Please support my efforts by buying me a coffee and getting access to My Patterns Library and downloading all free PDF files! Click to find out
Weekly Newsletter
Join to receive a first gift?
Join my list to receive the first free pattern and get notified once I publish a new free pattern.