What better way to do that than with adorable Christmas crochet patterns? On my blog www.lennutas.com, I'm excited to introduce my latest pattern collection, "Cuddly Chubby Critters."
These whimsical amigurumi designs are specially crafted for the festive season and will add a touch of magic to your Christmas décor. The best part? You can get a whopping 40% OFF on our early bird sale on my ETSY and my pattern store at shop.lennutas.com. Let's dive into the holiday spirit with these delightful creations.
Why Choose My Christmas Crochet Patterns?
High Conversation Rate: My patterns are perfect for crafters of all skill levels, making them accessible to everyone.
High Convince: With four patterns in one collection, you're getting exceptional value for your crafting projects.
40% OFF Early Bird Sale: Don't miss out on this incredible deal. My early bird sale is a limited-time offer, so make sure to grab your patterns at a discount!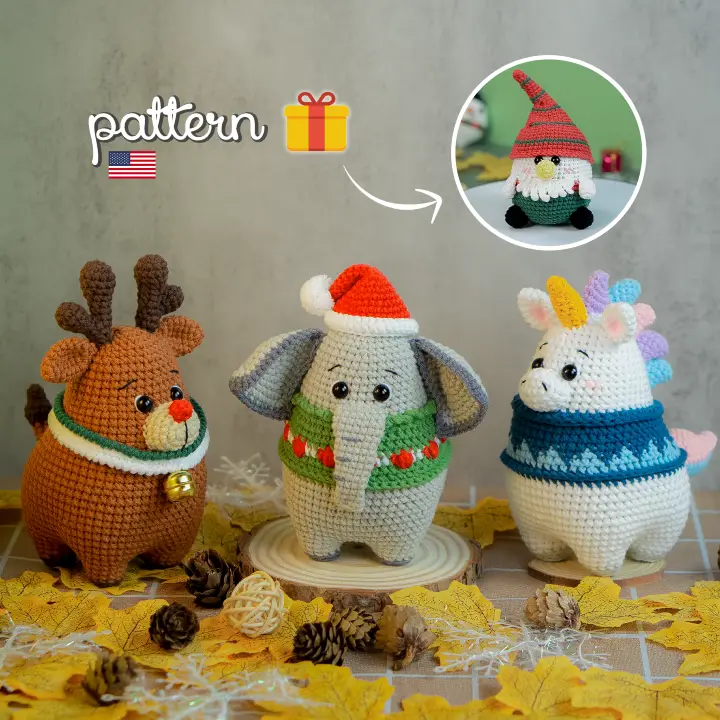 4 Christmas Crochet Patterns
My "Cuddly Chubby Critters" pattern collection features four endearing amigurumi toys – a chubby reindeer, a cuddly elephant, a magical unicorn, and a bonus gnome. Each pattern is designed with the utmost care and attention to detail to ensure that your holiday crafting is not only enjoyable but also truly enchanting. These little critters are the perfect addition to your Christmas decorations or make heartwarming gifts for your loved ones.
Chubby Reindeer
This adorable reindeer amigurumi will add a touch of whimsy to your Christmas decorations. With its rosy cheeks, festive scarf, and shiny red nose, it's ready to guide Santa's sleigh.
Cuddly Elephant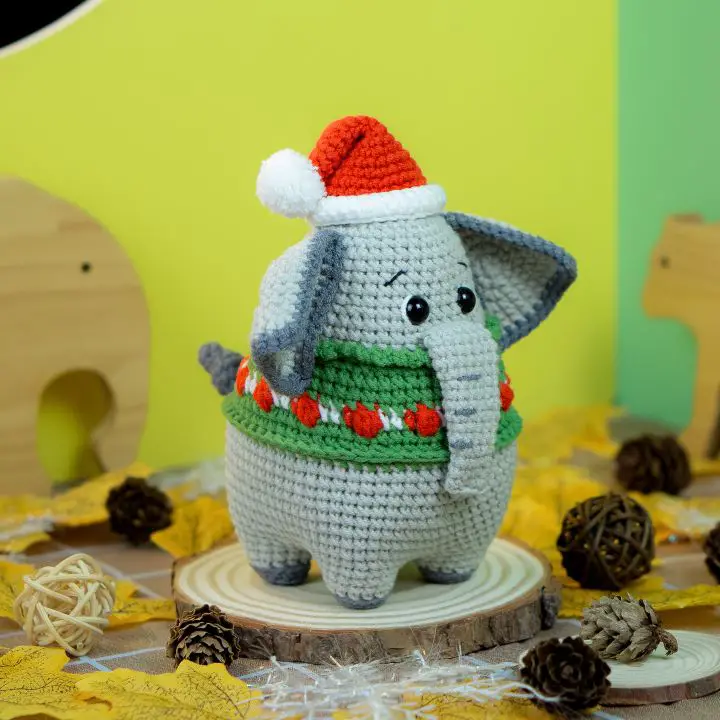 My chubby elephant is all dressed up for the holidays with a cozy winter hat and a scarf. It's the perfect cuddle buddy for those chilly winter nights.
Magical Unicorn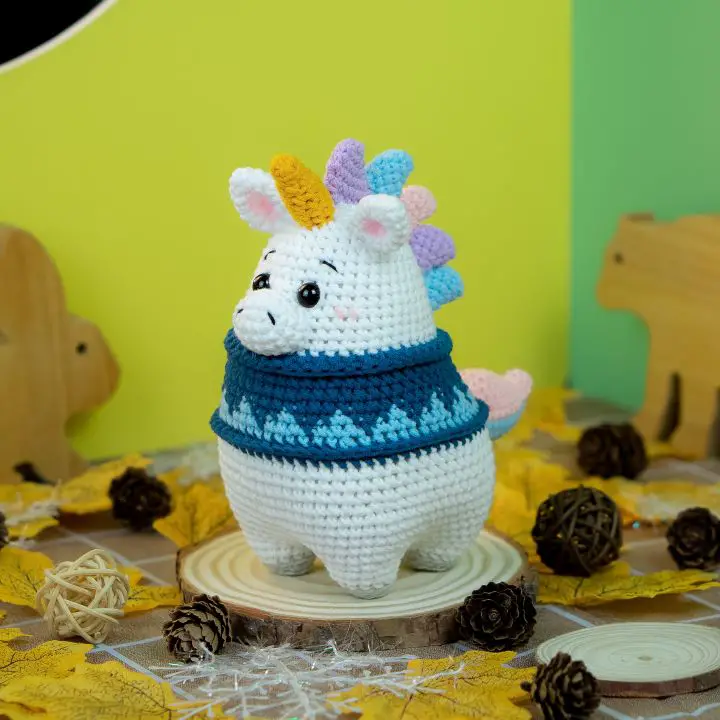 Unicorns are known for their magic, and this one is no exception. With a sparkling horn and a mane adorned with snowflakes, this unicorn will bring a touch of enchantment to your Christmas tree.
Chubby Gnome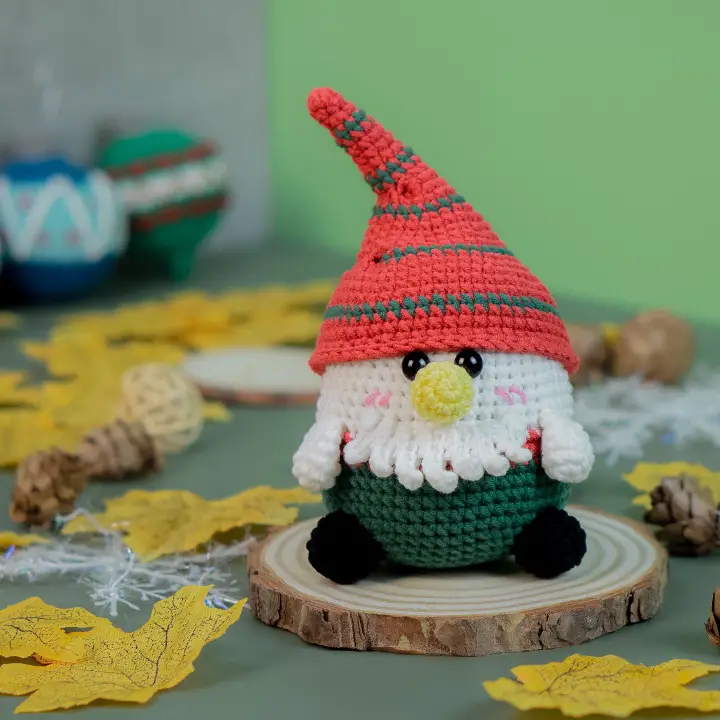 Spread even more holiday cheer with my bonus gnome pattern. This jolly little fellow is ready to assist Santa in making this Christmas extra special.
Don't Wait – Start Crocheting Today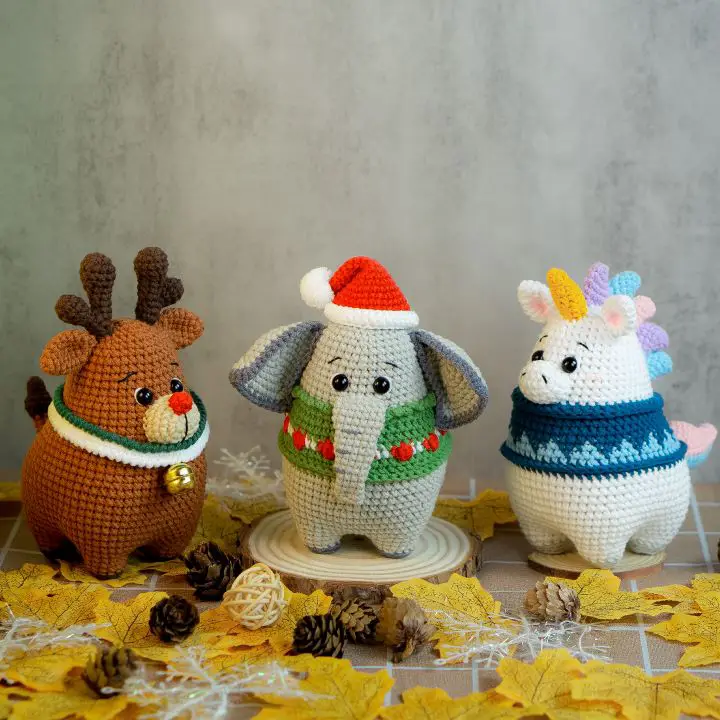 My "Cuddly Chubby Critters" pattern collection is here to make your Christmas extra special. But remember, the 40% OFF early bird sale won't last forever. So, don't wait – start crocheting today and make this holiday season truly magical.
Stay Updated
For more patterns, ideas, and inspiration, visit our blog at lennutas.com. Also, follow me on Instagram, Facebook, and Youtube with the handle @lennutas for updates and useful resources to enhance your crochet journey.
With my latest Christmas crochet patterns, "Cuddly Chubby Critters", your holiday crafting is about to get a whole lot cozier and more charming. Happy crocheting!
Weekly Newsletter
Join to receive a first gift?
Join my list to receive the first free pattern and get notified once I publish a new free pattern.