Step back in time with my brand new amigurumi ideas, crochet dinosaurs! My collection features a variety of cute and cuddly amigurumi dinosaurs, perfect for kids and adults alike. From ferocious T-Rexes to gentle herbivores, our patterns are sure to delight any dino enthusiast.
Bring these prehistoric creatures to life with your own handmade creations, and add some Jurassic fun to your amigurumi collection today!
Introduction
Hey there, have you heard of amigurumi? It's a Japanese art of creating small and adorable stuffed animals or creatures using knitting or crocheting techniques. And let me tell you, it's all the rage right now!
So, let's dive into the exciting stuff! I'm thrilled to introduce my latest designs for a dinosaur couple, and boy are they cute! These lovable dinos are perfect for anyone who loves to make unique and quirky toys. Plus, they come with a wedding theme, making them the perfect personalized gift for newlyweds or as an anniversary present.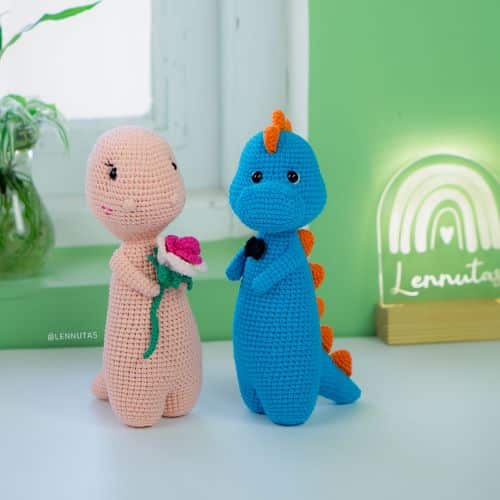 Let's talk about the dinos' features, shall we? These chubby cuties have big and fat legs, hips, and waist, with tiny arms and heads that can rotate 360 degrees! Plus, they can stand on their own without any support. How cool is that? And while they share some similarities, there are some differences between the two. Jasper, the male dinosaur, is all blue, with spikes on his back, and a tiny black bow on his neck. Meanwhile, Ruby, the female dinosaur, is rose-colored, holds a white and pink rose, and has no spikes on her back.
Trust me, you won't want to miss out on these lovable dinos! They're perfect for unleashing your creativity and making one-of-a-kind gifts. Stay tuned for even more fun designs and outfits for this dynamic duo.
Meet the Dinosaurs
Say hello to the most charming dinosaur couple around, Jasper and Ruby! These cuties are sure to make your heart melt!
First up, Jasper – he's the coolest blue dinosaur you've ever seen! With spikes on his back and a snazzy black bow around his neck, he's the perfect combination of tough and stylish. And did I mention that his head can rotate a full 360 degrees? Talk about being flexible!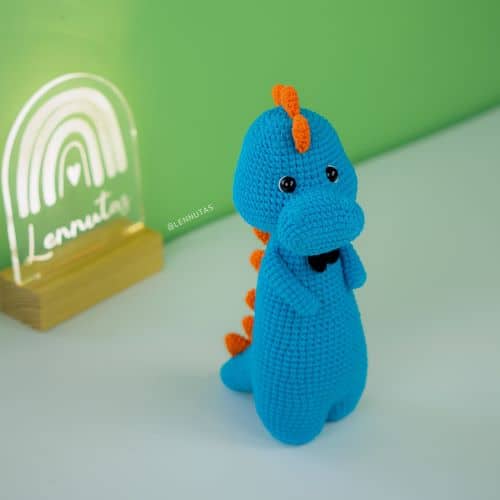 Now let's meet Ruby – she's a beautiful shade of rose and holds a stunning white and pink rose in her little arms. She's elegant, she's graceful, and she's ready to show the world that even dinos can have a sense of style! Just like her partner, her head can rotate 360 degrees too, making them the ultimate dynamic duo.
And what's the icing on the cake, you ask? Well, they come with a wedding theme, making them the ultimate gift for any happy couple! Whether it's for a wedding or an anniversary, these crochet dinosaurs are sure to steal the show. Plus, they're perfect for anyone who loves to make unique and quirky gifts.
So what are you waiting for? Grab your yarn and hook, and get ready to make the cutest dinosaur couple around. Trust me, they'll be a hit with anyone who loves adorable and one-of-a-kind toys.
Crochet Dinosaurs Pattern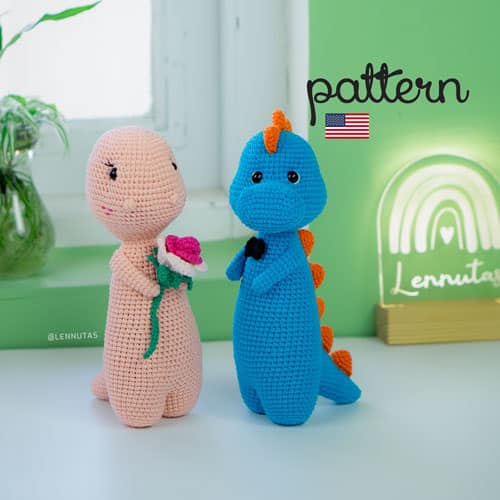 Love making both? Save up to 20% OFF for a set of 2 patterns, buy on my pattern shop or ETSY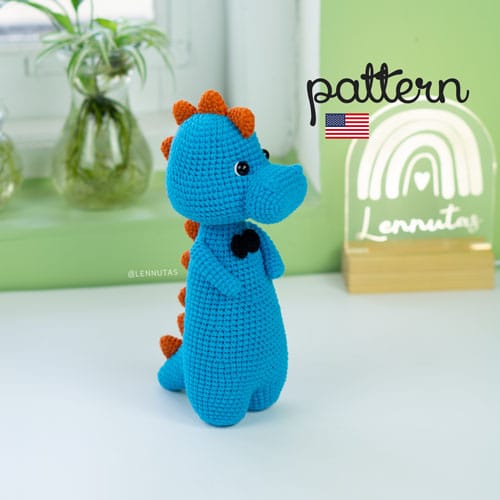 Jasper the dinosaur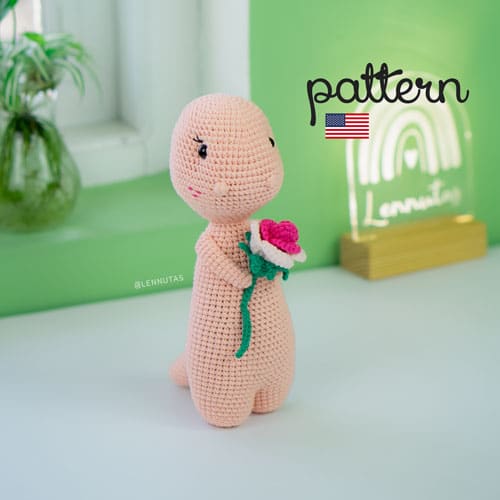 Ruby the dinosaur
Love more patterns to crochet dinosaurs? Check out all free dinosaur patterns on my blog.
Want More New Outfits and Styles?
Get ready for even more fun with Jasper and Ruby because I've got some exciting plans in the works! I'm going to create new outfits and styles for this adorable dinosaur couple, so stay tuned for even more cuteness!
I'm thinking about all kinds of potential themes for these little guys, from seasonal outfits like cozy winter sweaters and hats to summer beachwear. I could even create holiday-inspired outfits for Halloween, Christmas, and more. The possibilities are endless!
One of the best things about creating new outfits for Jasper and Ruby is that it allows for customization and personalization. You can create a unique and special gift for your loved ones that perfectly fits their personality or interests. Plus, it's a fun way to get creative and experiment with different colors and textures.
So, let your imagination run wild and get ready for even more adorable dinosaur couple fun. With new outfits and styles on the way, Jasper and Ruby are sure to be the ultimate gift for any dinosaur lover or amigurumi enthusiast!
Summer style
Summer is heating up, and so are Jasper and Ruby's new outfits! Get ready to beat the heat with this cute dinosaur couple, featuring easy-to-follow patterns and lots of photo and video tutorials.
Jasper is sporting a trendy pair of swim shorts with a fun dotted texture, and he's not afraid to accessorize with some stylish sunglasses. Meanwhile, Ruby is looking absolutely fabulous in her lime green bikini and charming pink hat.
These bright and cheerful summer designs are perfect for crocheters who want to create fun toys for kids during the sunny season. Plus, with their easy-to-follow patterns and helpful tutorials, even beginners can make beautiful finished products!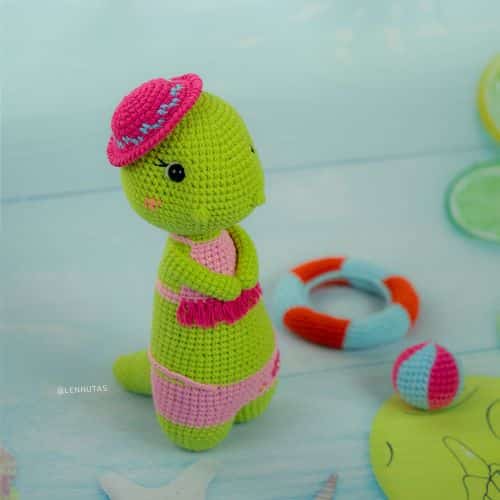 You can find these new patterns on my pattern store and ETSY, so you can get started right away. Whether you're an experienced crocheter or just starting out, Jasper and Ruby in summer outfits are sure to bring a smile to your face and some fun to your crafting.
So why wait? Dive in and start crocheting your own Jasper and Ruby in summer outfits today!
Summary
In conclusion, Jasper and Ruby are two of the cutest and most unique amigurumi toys out there. Their big and fat legs, rotatable heads, and ability to stand without support make them extra special. Plus, their wedding theme makes them perfect for gifts on special occasions.
Despite their similarities in shape, Jasper and Ruby have distinctive differences that make them even more special. Jasper, with his blue color and spikes, has a tougher and more masculine look, while Ruby, with her rose color and white and pink rose, exudes elegance and femininity.
These adorable dinos are versatile and appealing to anyone who loves cute and quirky toys. They're perfect for beginners and experts alike and offer endless possibilities for customization and personalization.
I encourage you to give these dinosaur couple patterns a try and stay tuned for even more exciting patterns in the future. With new outfits and styles on the way, Jasper and Ruby are sure to be a favorite among amigurumi enthusiasts and toy lovers alike. So grab your hooks and let's get started on creating the cutest dinosaurs around!
More Amigurumi Ideas
Recommended crochet ideas:
Weekly Newsletter
Join to receive a first gift?
Join my list to receive the first free pattern and get notified once I publish a new free pattern.